Eyes on the Road
License plate readers are a powerful crime-fighting tool that help track down stolen vehicles and fugitives with warrants. But they also collect and store information about every vehicle on the road. Here's what all that data looks like in Georgia.
They are the go-to technology in crime-fighting: license plate readers or LPR's. They collect tag data to solve crimes. But they also collect data on you.
WSB-TV worked for months to collect license plate reader data from more than a dozen Georgia law enforcement agencies. Since WSB-TV started investigating, a new law went into effect, prohibiting the public from ever getting any of the data. So for the first -- and perhaps last time we can show you what police see and why privacy advocates are so concerned.
The amount of data is enormous. LPR's don't discriminate. They scan every plate, even cars going the opposite direction. Recording where you are and what time it is and, in Georgia, storing it up to two and a half years. And it's all linked to the seven digits and letters on the back of your car.

"We can type in a tag and it can give us a time and date-stamp and a GPS coordinate of where that tag was last seen," Corporal Calvin Barton, Georgia State Patrol.
Channel 2 Investigative Reporter Aaron Diamant rode along with Georgia State Patrol trooper Trey Thomas. The agency has 65 mobile readers in use to cover the state. Thomas has two license plate readers on the back of his vehicle. Thomas says his LPR's see things he can't, like stolen cars and wanted felons.
"I don't have to be constantly stuck on the computer running tags. I can let the cameras do the work for me while I can stay focused on the roads, stay focused on other people driving," Thomas said.
Because the data-sets are so large, WSB-TV investigative producer Josh Wade requested just two days of Georgia State Patrol data: May 1 and 2, 2018. Over those two days, Georgia State Patrol scanned 274,617 license plates. In all of 2017, a staggering 42,416,383 tags. Even smaller agencies like Snellville Police Department scan thousands of plates each month. And in all of June of this year, the city of Atlanta, which has 347 mounted readers, collected 29,547,689 license plates.

Gwinnett County police use 8 LPR's. Over a six month span, they captured 801,488 tags. In the month of March of this year, 152,734 plates were logged.
"The government should not be collecting information on everybody in order to go after a small portion of people." - Dave Maass, Electronic Frontier Foundation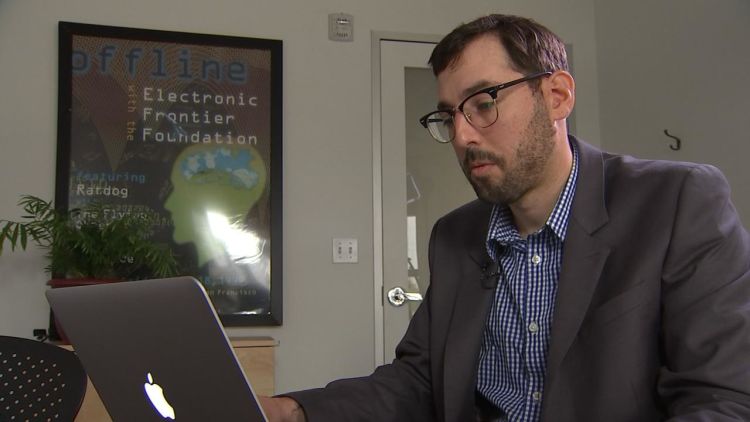 Dave Maass studies LPR's for the Electronic Frontier Foundation, a non-profit privacy rights group. He says license plate data can reveal personal details on innocent people: what church they go to, what political demonstrations they attend.
Using just a month's worth of Atlanta Police Department data, WSB-TV investigative producer Josh Wade was able to plot several vehicles' travel patterns tracking their exact location with the precise time of day.
"They capture information on everybody, they are a form of mass surveillance," Maass said. Diamant spoke with several metro Atlanta drivers and asked if they had concerns about cameras collecting information about their travels.
"That's the government. They do stuff like that all the time," Naomi Richmond told Diamant.
"It could be a problem just because it could leak out," Tyler Vernon said.
"I mean if you're not doing anything wrong you have nothing to worry about," Kandace Watts said.
Along with expired and stolen plates, police can locate stolen cars and wanted felons, simply by driving down the road.
Through August of this year, Atlanta Police made 209 arrests from LPR alerts.
In Conyers, after a title pawn store was hit by a serial armed robber, a responding officer's LPR picked up the tag on a fleeing vehicle.
"We go back and check that tag to discover that tag had been hitting at other locations with similar robberies and then we suddenly have a suspect that we can look in to," Sgt. Kim Lucas with the Conyers Police Department said.
Police were able to arrest Avery Frazier on 34 violent armed robberies. He's now serving 20 years in federal prison.
"It's not for us to harass you, it's not to generate activity. It's to get the folks off the streets and the stolen cars off the streets that don't need to be there," said Corporal Calvin Barton

But for Maass, he worries in the wrong hands this information could create a larger public safety risk than the one license plate readers are meant to address.

"I think that the average person, if they felt like somebody was following them all the time, would feel pretty invaded."